Henley Stoves - Blasket 21 Black Enamel Boiler Stove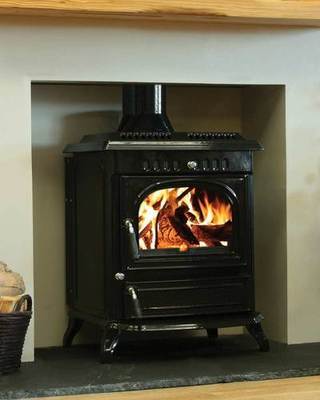 Description
The Henley Blasket Stove is a powerhouse of a stove, delivering 21kW of power to meet even the most demanding of home owners. Available in matt black cast iron or in brown/ black enamel. Its' output of 15kW to the water means that you can rest assured that it will meet even the most demanding of central heating requirements, while still delivering 6kW of heat to your room. Its integrated thermostat and control allows precision control over your heating and hot water requirements making the Blasket stove the ultimate choice for home heating. Like all in the Island Collection, this stove can burn all solid fuels and features airwash and cleanburn technology.
Specification
Power: 21kW(71,655BTU)
Finish: Cast Iron, Brown Enamel, Black Enamel
Boiler Option: Yes
Power to Water: 15kW(51,182BTU)
Power to Room: 6kW(20,487BTU)
Air Wash: Yes
Flue Location: Top or Rear
Flue Size: 6"